Week one: Testing #thekaylamovement Bikini Body Guide
The Herald Life & Style team road test health and fitness trends so you don't have to.
Instagram star and lady mag muse Kayla Itsines has been taking the world by storm with her Bikini Body Guide – 12 week programmes aimed at building and toning muscle in order to flash a bikini-worthy body.
On Monday, we introduced two Herald writers who have signed on to test out the guide, blogging about their experiences as they go.
Today, Tessa and Tina share the sweat, pain and elation of their first week with Kayla.
Tessa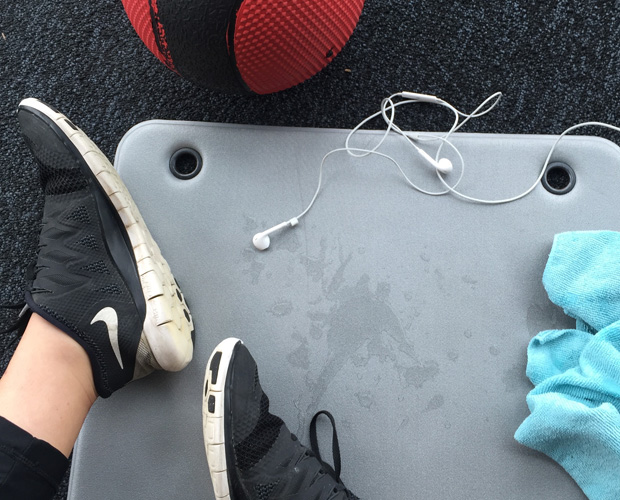 I looked down at the puddle of sweat on my mat. Ew. This has to be one of the worst things about working out in the gym: Everyone can see you red-faced, puffing, and sitting in your own pool of sweat. I have to give it to Kayla, she certainly knows how to kick your butt.
While seven minutes of relaxing can feel like 30 seconds, seven minutes with Kayla feels like when you first got "the talk" from your parents: Awkward. Long. Unnecessary.
I managed to rope my friend into completing the leg and cardio exercises with me, only to have her to spend most of the time laughing at me and my tendency to trip over while skipping – I'm not the most coordinated person.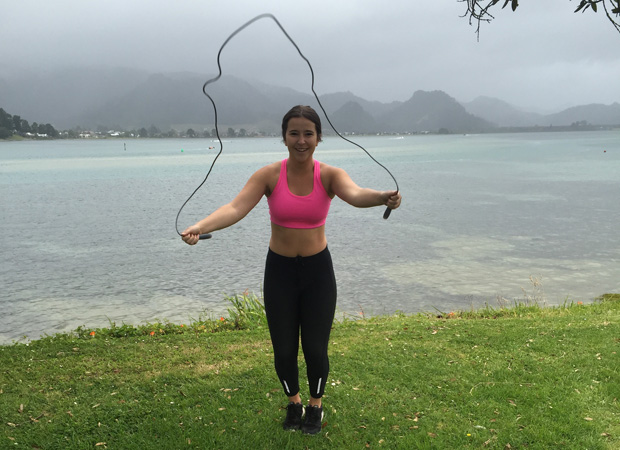 On the day I was away from the gym but still committed to my workout – #dedication – I took a leaf out of Tina's book and used two bottles of Merlot as my weights. I may have been tempted to pop one for hydration during the workout, then I decided Kayla probably only drinks protein-infused mighty mineral water, so red wine should be out of the question.
Can we take a minute to talk about how hard jump lunges are? They are probably the most disgusting exercise I've ever done. I hate them even more than burpees. My legs feel like they're bleeding while I concentrate on staying balanced, maintaining posture and acting like I'm not dying a slow death inside.
My results
Week One: I feel stronger, less bloated and more motivated to keep on working out. I don't feel like I want to go and eat a Chicken McCheese combo from McDonalds, which is an accomplishment in itself.
My workout track: Dirt Off Your Shoulder – Jay Z
Favourite workout: I'm kind of sick: I actually like doing squats
Least favourite workout: Jump lunges – yuck!
Tina
This week, I made it through three of the six strength and cardio sessions in week one of Kayla's work out plan. I feel surprisingly OK, which means the next wave of pain is going to be REALLY painful I'm sure.
I bought the app three weeks ago, trialling the introduction and beginner exercises. Now I've started the boot camp of the programme and after each session, I keep asking myself: Am I doing this correctly?
Should I be pairing a resistance session with a cardio session? I did that on Monday – it was just too nice of a day, so I did a leg workout and a few laps around Victoria Park. And I thought only pro athletes did double workouts.
Should I be alternating days: one day cardio, one day strength? I didn't quite get a clear answer from Kayla's Sweat app. If I missed something, please let me know!
During my Monday workout, I realised I had been doing walking lunges wrong. Come the Wednesday workout, I actually did a line of walking lunges. Previously, I had been going back and forth in place, lunge forward then lunge back. I mean, I still DID lunges. But maybe the forward movement adds … more?
Then there's the issue of weights – I don't own any. Nor do I own a medicine ball. For weights, I'm using bottles of fizzy drink instead. See, fizzy drink CAN be good for you if you use it right. But do I really need to buy a medicine ball? Can I substitute something else for a medicine ball? I've seen a #bbgmum use her toddler. I think people will definitely look at me funny if they ask if I can borrow their kid for a strength workout.
My results
Week One: Feeling good. May not be doing it right. But feeling good, so that means something is going right. Right?
My workout playlist: Clean Bandit, Pandora station
Favourite workout: Long cardio walks and squats
Least favourite workout: Any sort of push up. I have T-rex strength in my arms, and by that I mean: not much.
Check in next Monday for Tessa and Tina's updates.
– nzherald.co.nz